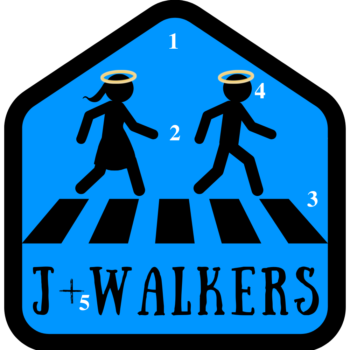 The logo takes the shape of a typical 5-sided pedestrian street sign. Our primary color is blue, aligning with the official color-scheme of St. Christopher Parish. "J+Walkers" is a play on "Jay-Walking," commonly considered walking against the flow of traffic. Our "J+Walkers" is short for "Jesus+Walkers," as our group travels the way of Christ which occasionally flows against the way of the world.
Two figures, a female and a male, are the main focal point of the logo. They represent a group of believers walking together on "The Way," an early historical reference to the Christian movement. The two figures also correspond to Matthew 18:20, "For where two or three are gathered together in my name, there am I in the midst of them."
The crosswalk represents "The Way" mentioned above and continues the theme of traveling. This concept identifies us closely with the patron saint of our parish, St. Christopher. Furthermore, being actively engaged in movement is traditionally associated with the Holy Spirit.
The two figures are adorned with golden halos. These represent their travel on the path towards holiness, striving to achieve the sainthood all believers are called to. We are aware of the divine presence residing uniquely within each of us.
The "+" sign in our name is a Greek cross. Composed of arms of equal length, the Greek cross was most commonly used in the early history of Christianity.